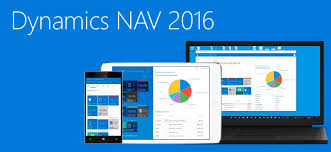 Q: What is Microsoft Dynamics NAV 2016?
A: Microsoft Dynamics NAV 2016 is a new and improved business management solution for small and medium businesses (SMBs) organizations that automates and streamlines business processes.
Release Date of Microsoft Dynamics NAV 2016:
Microsoft announced the launch of Microsoft Dynamics NAV 2016 on 5th October 2015. Microsoft unveiled some details about the Dynamics NAV 2016 release in July 2015 and the released accordingly on October 5th 2015.
"Microsoft Dynamics NAV 2016 offers significant new capabilities in mobility, business insight, and cloud services, as well as deeper interoperability with Microsoft Azure, Microsoft Dynamics CRM and Office 365," said Microsoft's Wayne Morris in a recent blog. "SMBs worldwide are looking to lower costs and compete more effectively with larger organizations, and are turning to technology to help streamlines processes, empower workers with insights anywhere and on any device, and to scale securely through the power of the cloud."
Microsoft Dynamics NAV 2016 combined with old features making it more mobile friendly and cloud based with new enhancement in data insights and analytics. Highly adaptable and rich with features, Microsoft Dynamics NAV enables companies to manage their business, including finance, manufacturing, sales, shipping, project management, services, and more. Companies can easily add functionality that is relevant to the region of operation, and that is customized to support even highly specialized industries.
Microsoft Dynamics NAV 2016 overview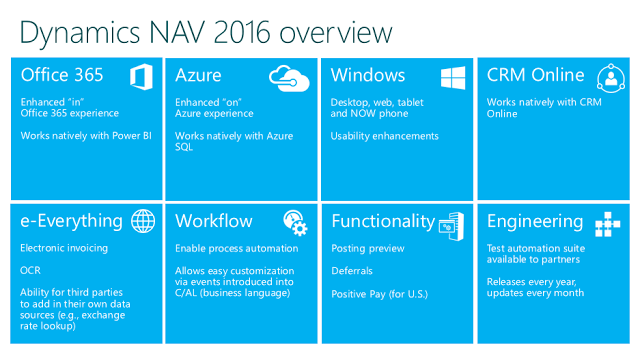 Features of Microsoft Dynamics NAV 2016:
Quick to implement
– Works natively with CRM
– Works natively with Azure SQL
– Extensions
– Test automation suite
Easy to use
– Windows 10 Universal App
– Usability enhancements
Power to support
– Finance enhancements
– Document management
– Workflow
– E-everything
– Power BI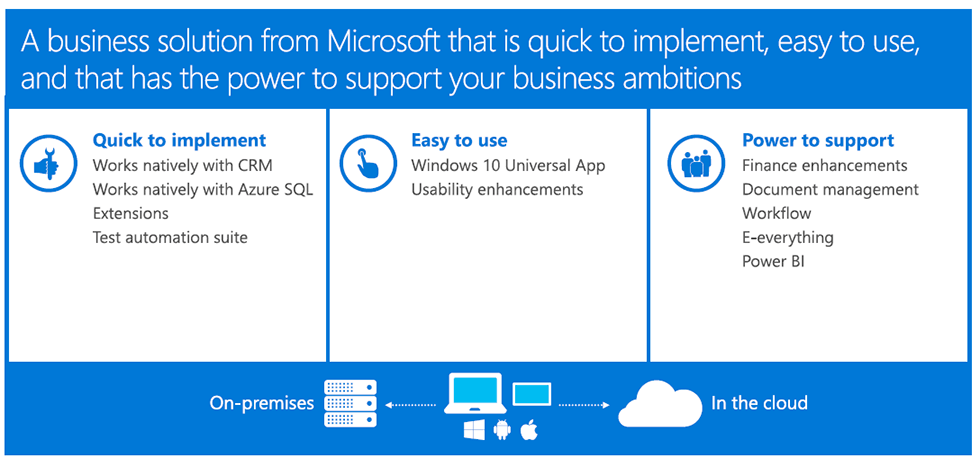 Top 5 New Features of Microsoft Dynamics NAV 2016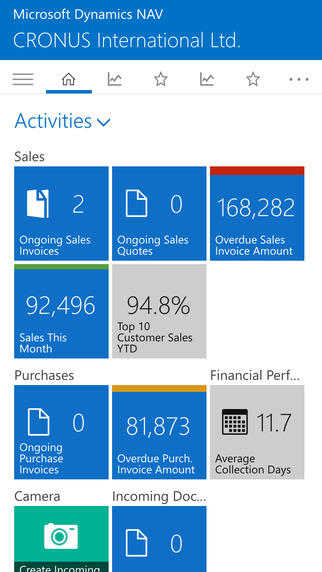 1. Increased usability for mobile workers
2. Better monitor the performance of your business
3. Take full advantage of Microsoft Dynamics CRM Online
4. Embrace the benefits of the cloud
5. Increase productivity and improve workflow
Dynamics NAV provides features including financials, reporting, supply chain management, service management, and more such as:
Business Intelligence & Analytics
Warehouse Management
Financial Management
Ecommerce
Mobile Sales
Mobile Service
Advanced Forecasting
Inventory Management
Project & Jobs Management
Service Management
Human Resource & Payroll
Manufacturing
Distribution
Sales & Marketing
As a developer I am happy to know that Microsoft Dynamics NAV 2016 contain new text editor which has feature like auto suggestion and auto complete,  Syntax highlighting properly shows keywords, operators, strings, comments etc. makes my work more easier.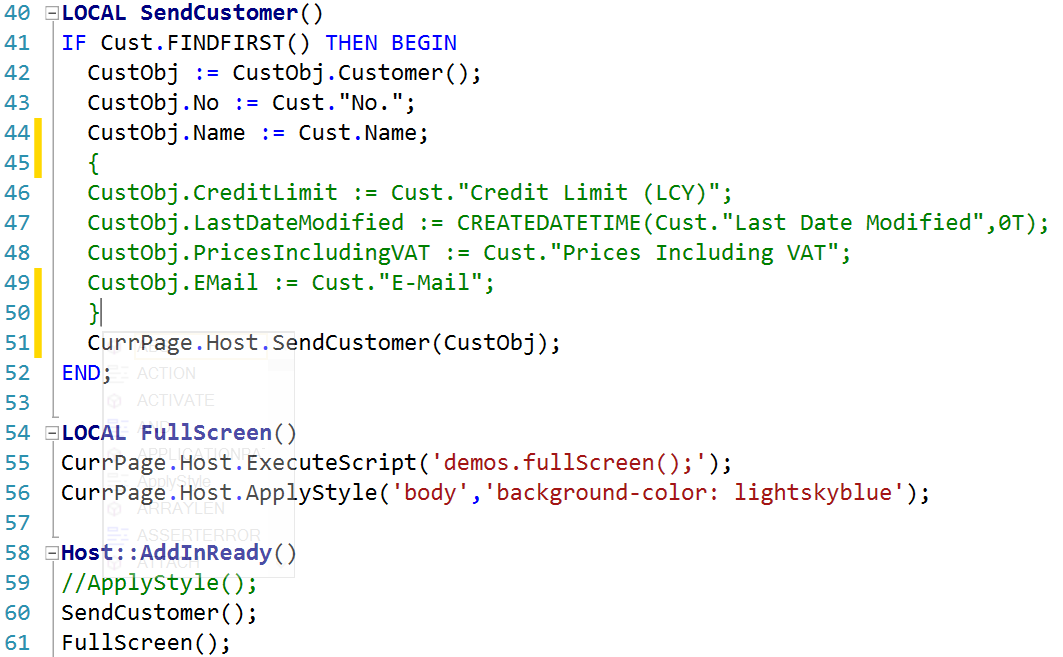 You can download it from mibuso on Download Microsoft Dynamics NAV 2016 or perform trail from Trial Microsoft Dynamics NAV 2016 by filling request form.
Related Resources :
Microsoft Dynamics NAV 2016 on Saurav
Microsoft Dynamics NAV 2016 – code editor
Microsoft Dynamics NAV 2016 unveiled features before release (on July)
More about Microsoft Dynamics NAV 2016
Features of navision 2016